The global meat trade has bounced from one form of disruption to the next in 2020. The year started with a global shortage of reefer containers as China – the world's largest imported meat market – entered the first COVID-19 induced lockdown. Airfreight subsequently collapsed as passenger airlines were grounded, while regional and national lockdowns hobbled logistics as countries responded to the first wave of the virus. Processing plants in many countries were shuttered or operated at reduced capacity, creating lumpy shortages and imbalances up and down supply chains. Foodservice channels closed in many markets while retail and e-commerce experienced a surge in demand.
Flooding along the Yangtze in July triggered a second, albeit smaller, shortage of containers circulating out of China. Carriers blanked sailings (cancelled one or multiple port calls) to try and match falling global goods demand with freight capacity, reducing the availability and reliability of cargo space on ships. Port industrial action and typhoons have disrupted shipping schedules further. Adding to this, the biggest global recession in living memory has made forecasting demand and sales across markets very difficult.
However, while clearly a challenging environment, the global meat supply chain did not 'break' or trigger a tide of restrictive food export measures as some anticipated early-on in the pandemic. In fact, through all this disruption, global meat exports have had the strongest first half of the year on record. For the twelve months ending June, global meat exports reached an unprecedented 33 million tonnes shipped weight* (swt), up 5.3% year-on-year and more than double the previous five-year average growth rate (2.1% CAGR).
Growth in the global meat trade, however, has been heavily reliant on a select group of suppliers, customers and trade routes. So, what drove this growth and how did Australian red meat fair in the mix?
ASF remains overwhelming force
The sheer size of the pork deficit in China, due to African Swine Fever (ASF), has outweighed all other aforementioned handbrakes to the global meat trade in 2020. Those suppliers in a position to capitalise on Chinese demand experienced the strongest growth among their peers. In fact, excluding China purchases, the global meat trade contracted 8.2% in the year ending June to the lowest level since 2011 – see chart below.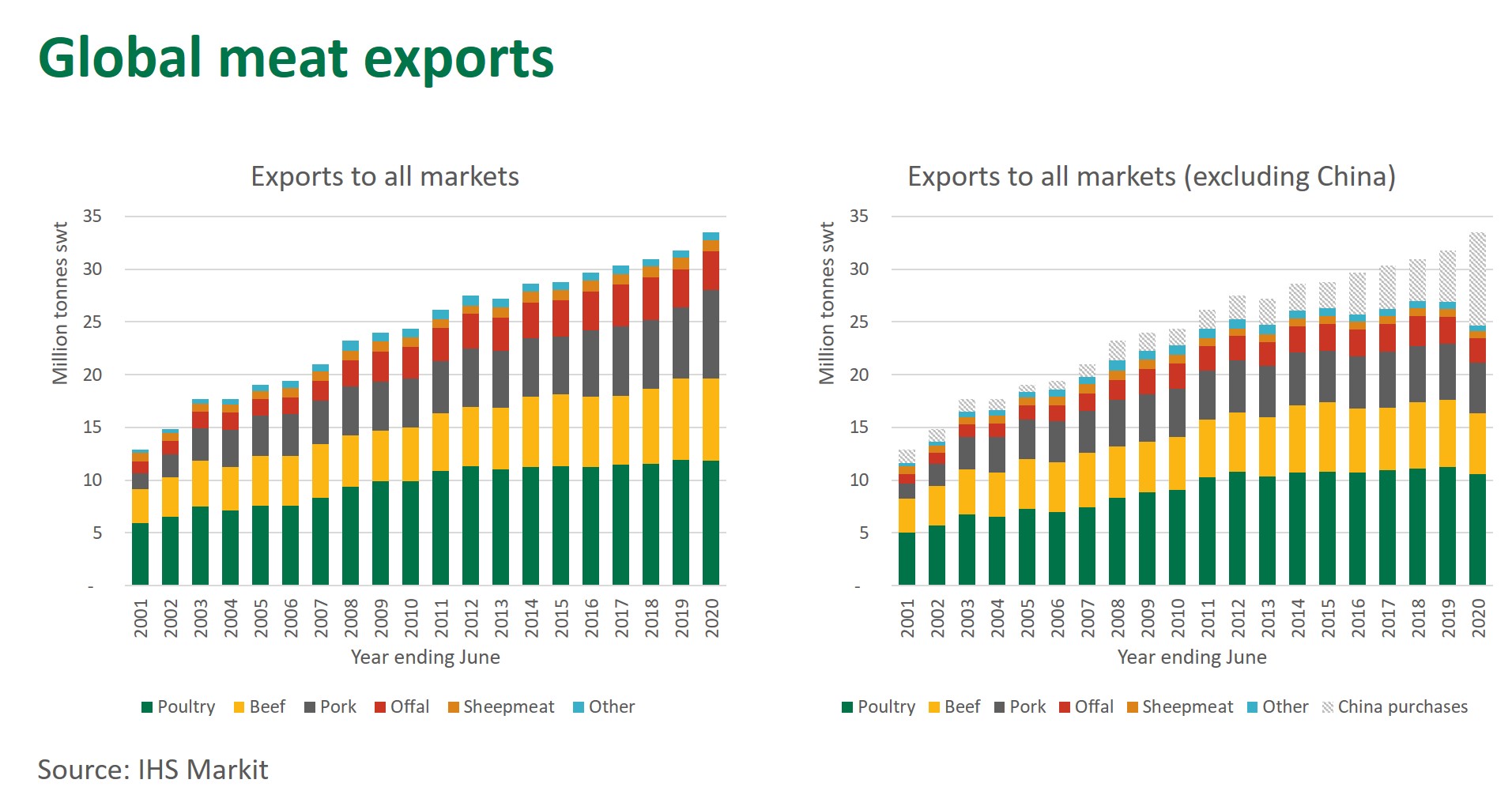 Pork shipments have been the greatest beneficiary of ASF, with China imports between January and August up 144% year-on-year. Boosted by the Phase 1 trade agreement, the US has captured the greatest growth in the China imported pork market. Despite COVID-19 slowing chain speeds and closing US pork plants in April and May, China imports from the supplier were still up almost five-fold year-on-year during the first eight months of 2020, at 526,000 tonnes swt. China pork imports from Spain, Germany, the Netherlands and Brazil also more than doubled over the same period. Pork shipments from Canada increased 54%.
Other proteins have also benefitted from the ASF pork shortage. China poultry imports almost doubled in the first eight months of 2020 to just shy of one million tonnes swt. Shipments from Brazil, the leading supplier, were up 35% at 470,000 tonnes swt, while the US emerged from a recently retracted avian influenza ban to be the second largest supplier, at 217,000 tonnes swt. Even Russia, traditionally a major meat importer, has joined the fray, shipping 101,000 tonnes swt of poultry to China over the January to August period.
Beef has also been buoyed by Chinese demand. China beef imports in the first eight months of 2020 were up 42% year-on-year, at 1.39 million tonnes swt. Brazil and Argentina have captured the bulk of this growth – up 158% and 45% year-on-year, respectively – but most major suppliers have recorded a lift in trade. Export growth from the two South American beef powerhouses has come about despite COVID-19 disruption to plant operations and temporary establishment suspensions to the China market.
However, not all of the major exporters have benefitted from market conditions. Notably, the collapse in US beef processing in April and May restricted exports to traditional markets. While shipments have returned to more normal levels, they have been unable to make up for the lost ground. However, while still relatively low, beef shipments form the US to China have been ramping up in recent months, with the Phase 1 deal paving the way for HGP-treated beef to enter the market (the ban on beta agonists, widely used in the US, remains) and the de-escalation of tariffs. China imports of US beef were up 71% year-on-year over the first eight months of 2020, at 9,000 tonnes swt.
In addition, the large-scale national lockdown in India hit the buffalo meat export industry very hard. In the April-June quarter, Indian buffalo meat exports collapsed by more than half, with shipments largely restricted to product already in cold stores. Export volumes have reportedly picked up more recently however traditional end-users in Asia and the Middle East will have drawn down frozen stores of product on hand and will be playing catch up through the rest of the year.
Germany, which confirmed to have a case of ASF within its border in September, has been banned from the China imported pork market. With Germany the third largest supplier and accounting for 13% of China pork imports prior to the ban, other European exporters, the US and Brazil will stretch to fill the shortfall.
Meanwhile, global sheepmeat exports, let alone shipments to China, remain constrained by limited supply growth out of Australia and New Zealand.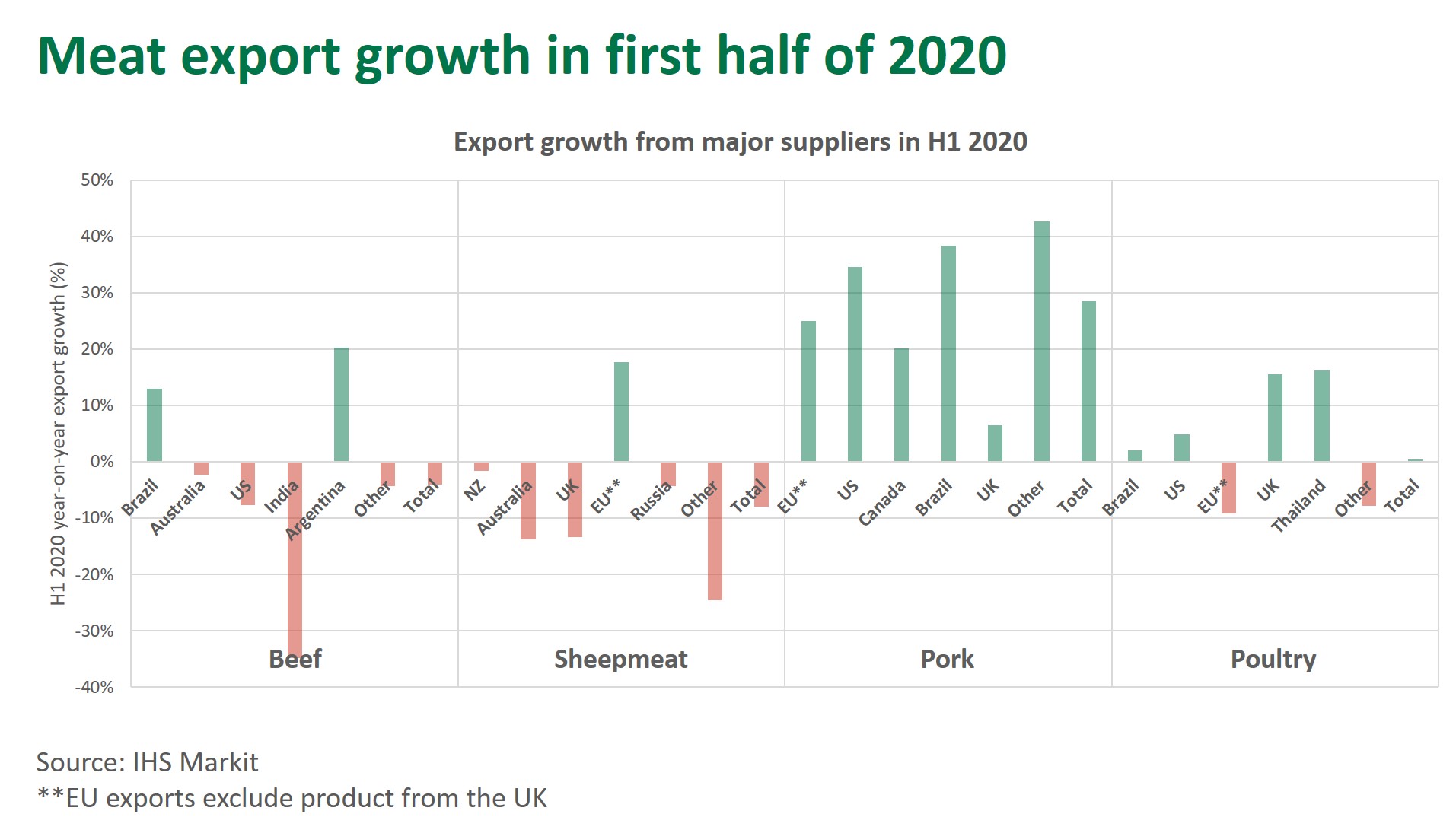 How has Australia fared in the mix?
Australia has navigated a similar mix of challenges in 2020, however, exports have also had to contend with tightening supplies due to a stark improvement in seasonal conditions. Australian beef and sheepmeat exports between January and September this year were back 11% and 12% year-on-year, respectively.
After a record year in 2019, volumes to China have been particularly affected. Australian beef shipments to China declined 22% year-on-year over January and September period, primarily due to tight supplies but compounded by some plant suspensions since June. Sheepmeat shipments to China were back 20% over January and September period due to the trade reliance on mutton supplies, which have been particularly tight this year.
Outside of China, exports have been mixed and reflective of varying degrees of freight and market disruption.
Year-to-September Australian beef exports to Japan, the US and Korea have been less affected, back 9%, 8% and 6%, respectively. Beef exports to Indonesia and the Philippines – more price sensitive markets – have declined 11% and 19%, while beef shipments to Malaysia and Vietnam have eased 8% and 5%, respectively, so far this year.
Australian sheepmeat exports to the US were supported by tight domestic supplies in the destination market, up 7% so far this year, while Korea also presented growth opportunities, up 14% year-on-year. Year-to-date sheepmeat exports to Malaysia are on par with year-ago levels.
Shipments to the Middle East have declined due to a range of issues but, in-part, owing to the region's reliance on airfreight and collapse in passenger flights. Sheepmeat exports to Kuwait, Jordan and Oman are back between 22-32% so far this year, while shipments to Bahrain have been more affected, back 72%. Sheepmeat exports to the UAE, one of the wealthier markets in the region, have declined 13% so far this year.
Sheepmeat exports to Qatar bucked the trend, back just 2% so far this year, with its national carrier continuing to operate a regular Australia-bound flight. Sheepmeat exports to Saudi Arabia, a market primarily serviced by sea-freight, are back 6% so far this year.
Airfreight is less essential for the beef trade but volumes have held up relatively well. Airfreight tonnage to Hong Kong, Singapore, China and Thailand – the primary airfreight markets – all eased less than 15% so far this year. Australian red meat airfreight exports have been supported by the federal government International Freight Assistance Mechanism, which has been extended through to the end of the year.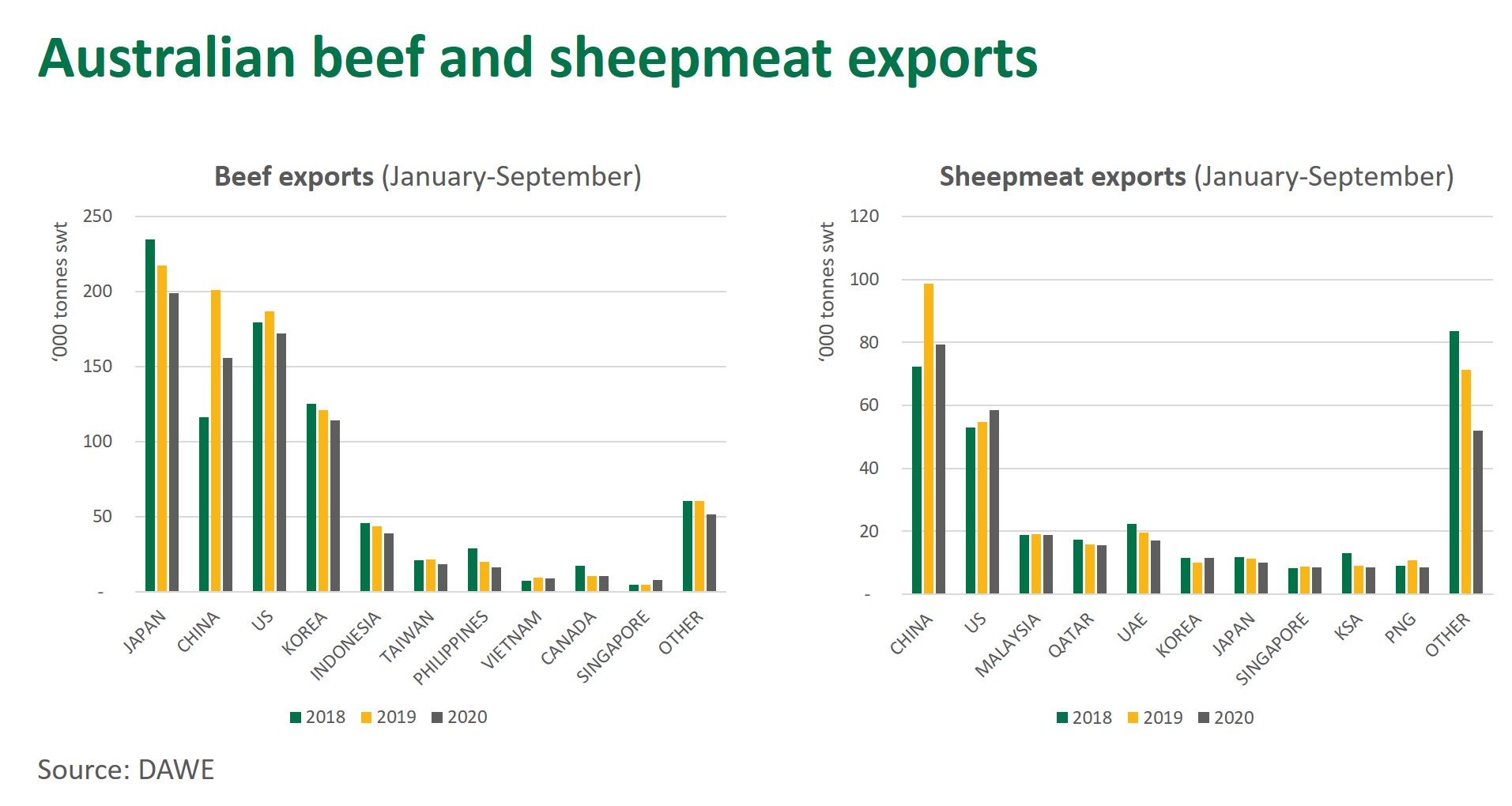 Trade has also been affected by supply chain disruption in Australia. In Victoria, plant processing capacity and exports were tempered by a second wave of COVID-19 and regional lockdowns across the state over the last couple of months. Fortunately, these measures are now being loosened as COVID-19 cases subside, ahead of peak lamb season.
More recently, industrial action at Port Botany in Sydney has slowed throughput and disrupted shipping schedules down the eastern seaboard. Port Botany accounted for 10% and 25% of national beef and sheepmeat sea-freight exports, respectively, in Q4 last year with shipments from the port particularly geared to US and North Asia.
While a range of issues have disrupted red meat exports in 2020, limited supply of slaughter-ready livestock in Australia has been the overwhelming influence on trade.
What to expect next?
The level of supply chain disruption in Australia and overseas and the myriad ways COVID-19 will influence trade going forward is hard to anticipate. However, the resilience of the global meat trade to date suggests it is positioned to weather what storms may lie ahead. Of more certainty, ASF and the huge meat deficit in China will remain a cornerstone of global meat markets.
While tight Australian supply is expected to be an ongoing theme through the rest of the year and into 2021, Australia will remain a major red meat exporter. With both the US and India facing their own challenges in 2020, Australia will likely round out the year as the second largest beef exporter, behind Brazil. Likewise, Australia will be the biggest shipper of sheepmeat this year, as New Zealand faces its own supply limitations.
As for demand, the outlook across key markets remains unclear, as economies enter a recovery phase and governments attempt to return society to a new normal. For Australian red meat, maintaining its well-diversified export portfolio, and leveraging its strong consumer brand as a safe and high-quality product, will be key in responding to market opportunities and mitigating trade risk.
*available IHS Markit export data coverage up to June 2020 includes: Argentina, Australia, Bahrain, Brazil, Canada, Chile, China, EU (external trade and excluding the UK), Hong Kong, India, Indonesia, Japan, Malaysia, Mexico, New Zealand, Paraguay, Philippines, Qatar, Russia, Singapore, South Africa, South Korea, Taiwan, Thailand, United Kingdom, United States and Uruguay. This is not an exhaustive list however it does include all the major global meat exporters.
/Public Release. View in full
here
.