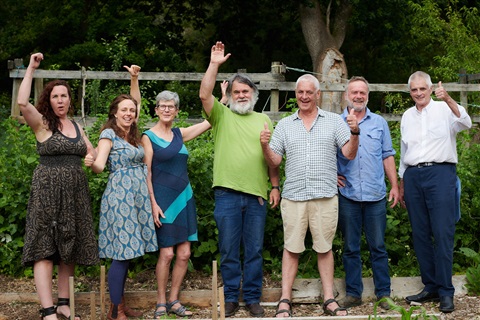 Extraordinary sustainability work in the community has been recognised by the State Government, with Yarra Valley ECOSS awarded two Premier's Sustainability Awards.
In late November, ECOSS – a not-for-profit community organisation in Wesburn – won both the Social and Economic Justice and Sustainable Places Awards from the State Government.
Over the last 15 years, ECOSS has created a vibrant community hub – demonstrating sustainable living, supporting ethical businesses and not-for-profit groups, creative an inclusive environment and promoting ways of living lighter on the earth.
ECOSS Executive Officer, Chelsea McNab, said the group was "thrilled" about the recognition and awards.
"For us, the recognition means a lot," she said.
"It acknowledges all the hard work of everyone involved and affirms that we are on the right path in creating a really valuable place for everyone to experience in a sustainable way.
"We strongly believe that our message is being 'heard' about sustainable living, supporting the arts and local food producers, and tackling climate change."
Yarra Ranges Mayor, Jim Child – who sits on the ECOSS committee with Council staff – congratulated the ECOSS team on the win.
"I'm proud of the many community groups and businesses in Yarra Ranges who have been doing incredible work in sustainability – especially the team at Yarra Valley ECOSS," Cr Child said.
"The team at ECOSS has consistently worked to be ambassadors for sustainability, environmentally-conscious living, and it's heartening to see this work recognised and celebrated by the State Government.
"I'm also proud of the support that we at Council can provide to groups like ECOSS.
"Council leases land to ECOSS and supports the group financially through partnership funding and grants for various projects, and it's clear to see that this investment is money well-spent.
"Well done to ECOSS, and I look forward to seeing what will be achieved in the future."
Sustainability Victoria noted projects, including Crops for Community, the Valley Market and the Work for the Dole Program, as examples of ECOSS' achievements in recent years.
The Valley Market was started at the beginning of the pandemic, providing a space for local producers to sell their produce, supporting community members to shop outside of a supermarket and create connections between people in the Upper Yarra Community.
Ms McNab said there are many things everyone in the community can do to live more sustainably.
"Reducing our energy consumption and using renewable energy from solar are two obvious things people can do," she said.
"Also, getting involved with groups such as ECOSS, Permaculture Yarra Valley and community renewable energy groups can make a collective impact."
/Public Release. View in full
here
.