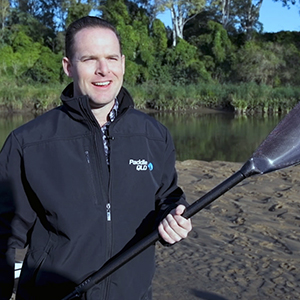 A new canoe and kayak trail has been developed on the Logan and Albert Rivers.
The water-based trail features six different paddles catering to all abilities.
It stretches from Carbrook to Waterford on the Logan River and up to Beenleigh on the Albert River.
The trail includes 10 designated launch or stop-off points and takes in some of Logan's best- known and most popular parks.
Steps have been added to existing pontoons at several parks to assist in getting in and out of paddle craft.
Signage at most parks lists some history of the area, environmental features and facilities within that park.
Every aspect of the trail, along with an interactive map, has been captured on a new app which can be accessed for free at logan.qld.gov.au/canoeandkayaktrail.
A copy of the map can also be downloaded and printed.
City Planning, Economic Development and Environment Committee Chair, Deputy Mayor Jon Raven said the new canoe and kayak trails are part of Council's adopted Logan and Albert River Visions.
"In developing our long-term plans for the two rivers, the Logan community told us they wanted to use and enjoy our waterways," Cr Raven said.
"And these new trails offer something for everyone whether you are paddling for exercise, fishing or family fun."
Safety advice is a key component of the trails.
Paddlers should wear life jackets or a flotation device and are urged to consider weather, tide and wind conditions.
Generally, paddlers can cover about four kilometres per hour in ideal conditions and it is recommended to paddle in groups on longer trips.
Paddle trails include:
Alexander Clark Park to Logan River Parklands: 1.9km (approx. 27 minutes). A good short trail for families and those building their paddle fitness.
Riverdale Park to Slacks Creek Loop: 2.4km (approx. 35 minutes). An out-and-back loop that requires paddling under overhanging vegetation and through faster-flowing water.
Larry Storey Park to Riverdale Park: 4.7km (approx. 70 minutes). Ideal for beginners as launching at Larry Storey Park is done from a sandy beach.
Logan River Parklands to Skinners Park: 4.7 km (approx. 70 minutes). This trail offers great walking tracks, playgrounds and picnic facilities as well as the chance to see the historic Red Bridge'.
Skinners Park to Riedel Park: 7.8km (approx. 1 hour 57 minutes): This downstream section is popular with anglers. Increased boat activity.
Albert River Park to Skinners Park: 8.3km (approx. 2 hours 5 minutes). The longest trail that takes in Eagleby Wetlands, home to more than 200 bird species.
Planning is now underway to investigate plotting canoe and kayak trails along the mid and upper reaches of Logan and Albert rivers and upgrading other riverside parks for canoe and kayak access.
A Come-and-Try day will be held on Saturday, November 28, at Larry Storey Park, Waterford.
There are two sessions: 8am to 10am and 10am to noon. Various water craft will be available for the public to get involved.
/Public Release. View in full
here
.