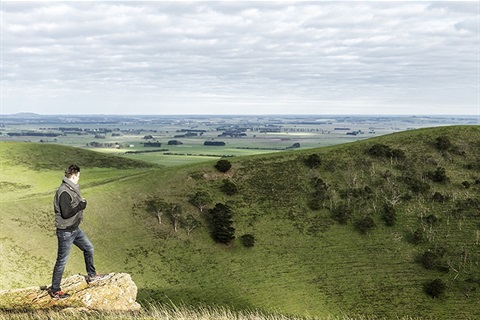 The Mount Noorat Management Committee is looking for five new members for a four-year term until June 2026, and one casual member for two years until June 2024. The new terms will start in July.
The Committee's responsibilities are mainly focused on implementing the 30-year vision of the Mt Noorat Management Plan and Risk Management Plan.
Committee Chair Bernard Conheady said the committee had achieved some great things in the past 12 months and the new members would contribute to exciting projects in the year ahead.
"We've re-gravelled a bit more of the walking track in recent times. We also fenced off the crater for natural rehabilitation. That's a couple of things we've done the past 12 months," he said.
"We've got a viewing platform that we hope to get up and running in the next 12 months. There's also continuation of our walking tracks and some more tree plantings."
Mr Conheady said the committee meets monthly to plan maintenance and development of the reserve, as well as fundraising and events.
"We plan everything from weed control, tree planting and construction works to community workshops and working bees.
"We're looking for people with all round abilities and skills. The more diverse group we've got the better.
Corangamite Shire Council Deputy Mayor and Noorat resident Geraldine Conheady called on anybody from the community with an interest in Mount Noorat to nominate.
"It's a truly well-loved natural asset in our community," Cr Conheady said.
"It's clear that walking and environmental experience on Mt Noorat is enjoyed by many, with an average of 1200 people per month walking on the track.
"I encourage interested community members you to get a copy of the position description and think about what skills you can bring.
"Whatever your background—farming, plant identification, propagation, weed management, fundraising, education, building or project management—your skills and experience could benefit the committee.
"Mount Noorat Management Committee is very active with a number of activities and projects on the go"
"I thank the members for giving their time and energy to care for Mt Noorat."
The Committee has 10 elected community members, a Council Officer and standing members Eve and Gina Black, representing the family of Niel Black who bequeathed the mount to the community.
Nominees can download a position description and fill in the application form here or call Council on 5593 7100 to arrange hard copies.
/Public Release. View in full
here
.